My cleaning/clearing-out project is seeing some very notable progress. Already purged myself of about half my clothes (it's not out of the house yet, but it is out of the closet), & now I'm working on the books.
Don't get me wrong, I love my stuff. Clothes, books, music, movies, knick-knacks, all of it. I love the circumstances under which I got various pieces (like t-shirts from concerts), & I love everyone who gave me the things they did (family & friends). I've used, appreciated, & enjoyed everything I've owned. But I can't take it all with me. So I might as well try to find my treasured items some good homes.

teacup_sky
asked me to post the list of books I've decided (after MUCH deliberation) I can part with. It may look pretty scary, considering how much many of you know I love the topics some of these books concern. But don't worry, I'm still keeping a few things from each genre for myself.
Just to prove that statement, here is a portion of what I'm KEEPING!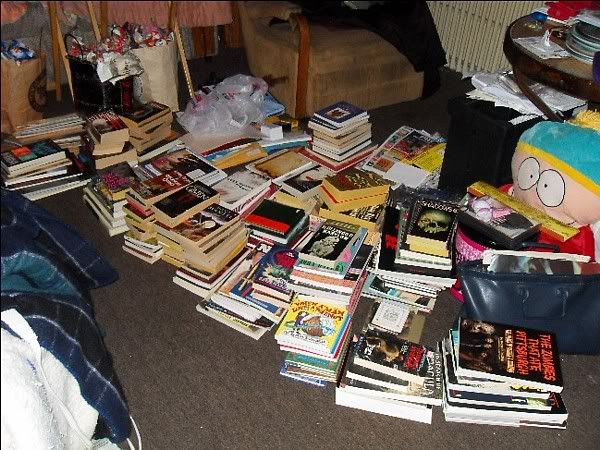 That's about 98% of what stays. The rest is upstairs, in my room. That's where my bookshelves are, but I brought down the majority of the keepers, 'cuz I didn't want to confuse them with the goers! XD
Speaking of the goers, here's that list.
EDIT:
If you see anything you like, please check
the list of what's gone
first, to see if it has already been claimed.
( Check it out! )
Stay tuned! This is just Part 1!
Lots more to come
!