japanesedream_72
Please remember to read Day 2 (
http://japanesedream.livejournal.com/408740.html
) before starting this entry.
Spotting some of the fireworks on the way out of Mascara, & running into

teacup_sky
's sister & her boyfriend at the bus station, we'd gone back to the house, where we chatted a bit, & while I was still a little down about the language barrier, we were enticed by the prospect of going to the next day's events. Though the drag show was over, there was to be a rave the next afternoon into evening, & it was said that Lady Miss Kier from Deee-Lite would be DJ-ing!
Up early, & I can't even remember if we ate or not. We did have a couple of days of that yummy green tea roll cake, but I can't recall which days those were. In any case,

teacup_sky
was determined to make me rave-worthy.
As you all probably know by now, I'm a Goth. And while there are many, many subsets of Goth, just as there are many, many subsets of Lolita, my Goth is pretty casual. Sure, I can do dressy/elegant, or throw in elements of other styles from time to time, but I tend to keep it pretty simple. I do admire other styles a great deal, though, such as Lolita, Steampunk, & Cyber.
In the vein of Lolita, my personal preference leans toward Gothic Lolita, &, set to a musical mix that was largely if not completely Japanese,

teacup_sky
set about her task of teaching me the fine art of dressing in Lolita. There's a lot more to it than you think!
As opposed to my throw-it-together style, Lolita often uses "brand" lines from designers or shops such as Angelic Pretty; Baby, the Stars Shine Bright (aka Baby or BTSSB); Atelier Boz; Bodyline; Closet Child; Emily Temple Cute; h.Naoto; Innocent World; Metamorphose Temps de Fille; Putamayo; & others - not forgetting, of course, Mana's line, Moi-meme-Moitie! Layering is a must, to achieve specific shapes - it's the first time I've worn petticoats in my entire life!
I did get to do a little inner happy dance at the opportunity to wear "brand" items: Bodyline blouse (my coffin/cross purse is Bodyline - got it on my first trip to Japan, the day of my first Moi dix Mois show), BTSSB dress, & Moi-meme-Moitie wrist-cuff, as well as TWO petticoats (not the larger, poofy ones, tho'), black collar with chains, black/silver spike necklace, net gloves under lace armbands (the latter of which, I think her sister got for her in Paris), black bow necklace with sparkly embellishment, & stockings with little sparkly spiders. The
coup de grace
came with the hair; since I had been a bit lazy & not styled mine, & seeing as how raves tended to call for a touch of Cyber, I borrowed

teacup_sky
's pink & white (with, I believe, a touch of silver) Cyber hair-pieces, & went to town.
Similarly,

teacup_sky
outfitted herself in an outfit incorporating bits of Gothic & Sweet Lolita as well as Cyber styles (the latter embodied by the mask). The "holes" (they're more like really interesting windows) in the Metro provided us the perfect opportunity for some impromptu modeling. Yes, I suck at it, but that's okay.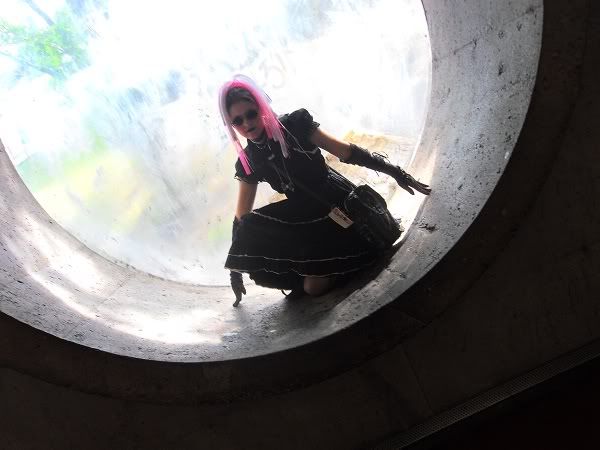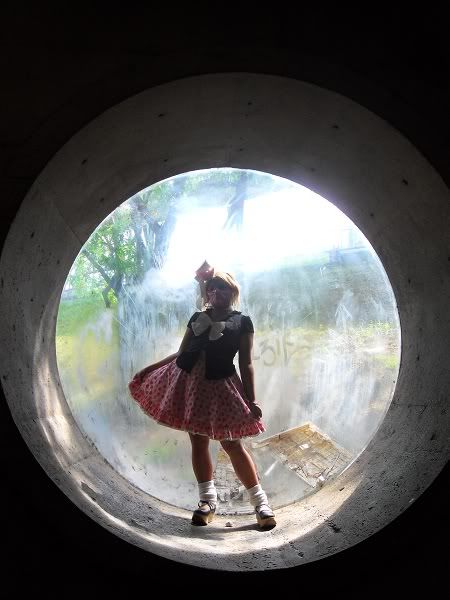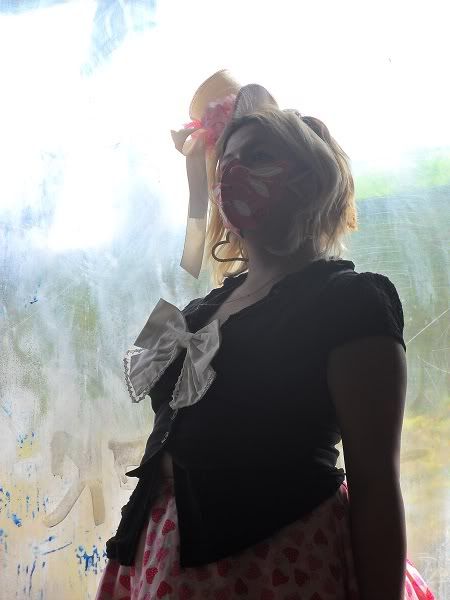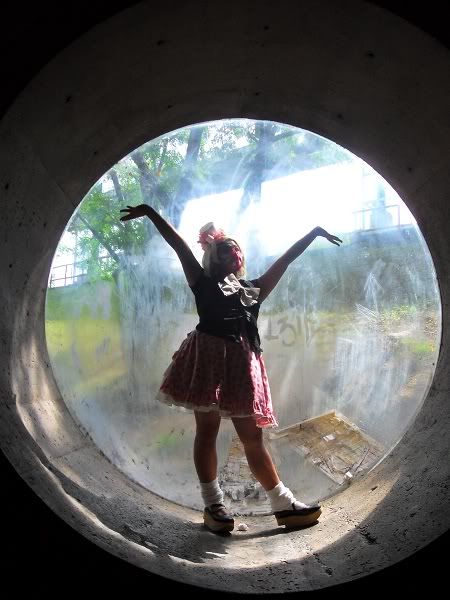 Strange as our looks were for the place we were going, I was anticipating what we had planned for the morning - brunch in the Place Jaques-Cartier, near the old seaport, after which, we would stroll through sections of Old Montreal, the historic part of the city & an architectural ode to Paris. They even have their own Notre Dame!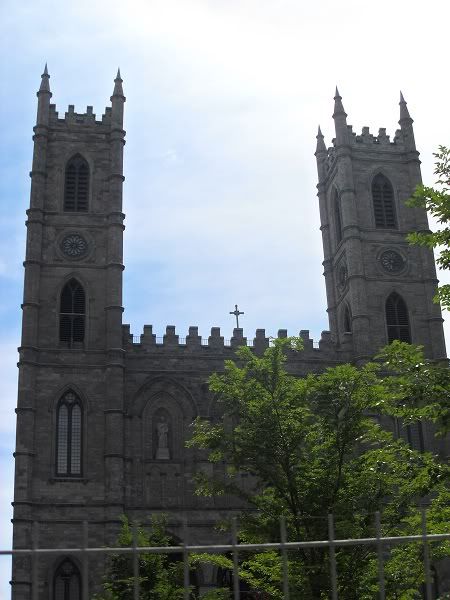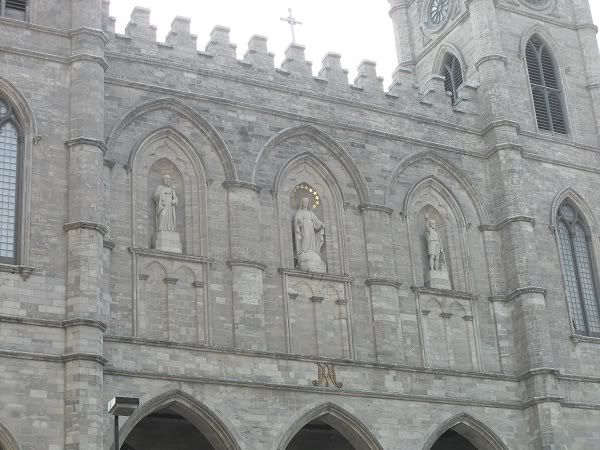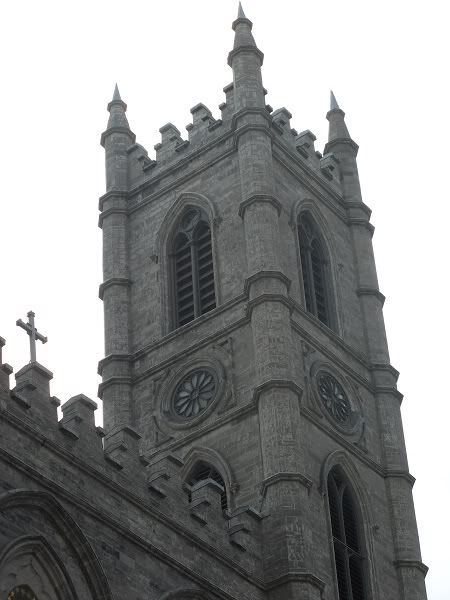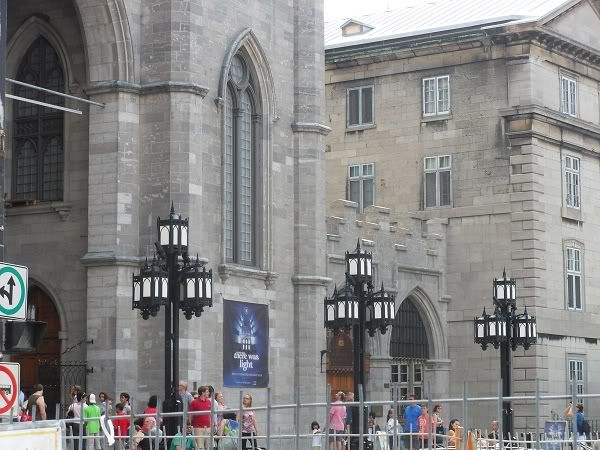 But more on that later.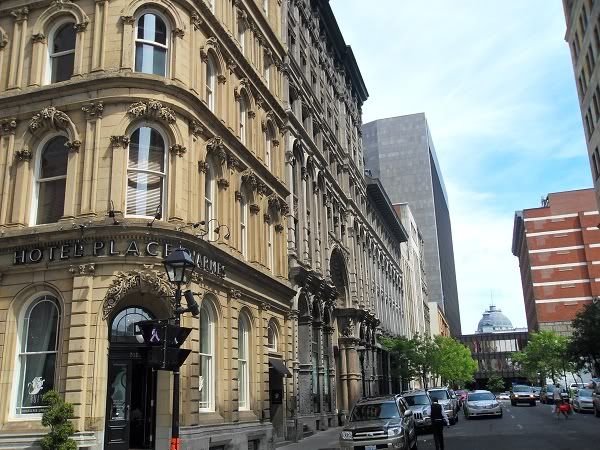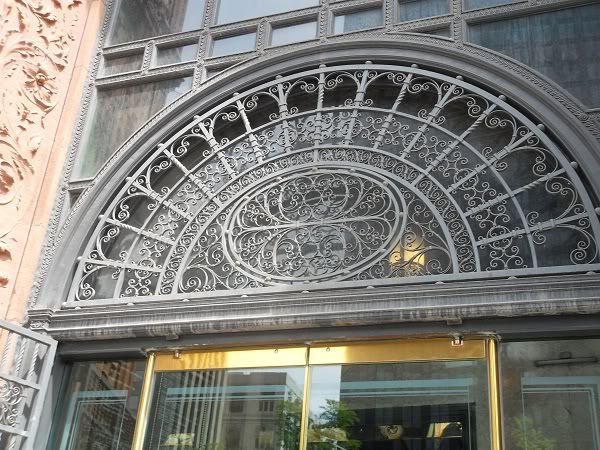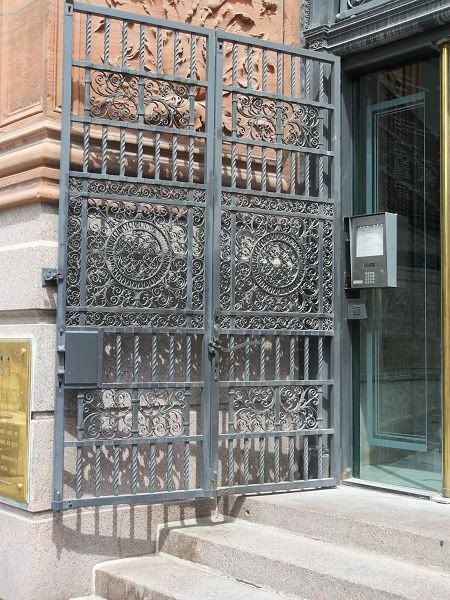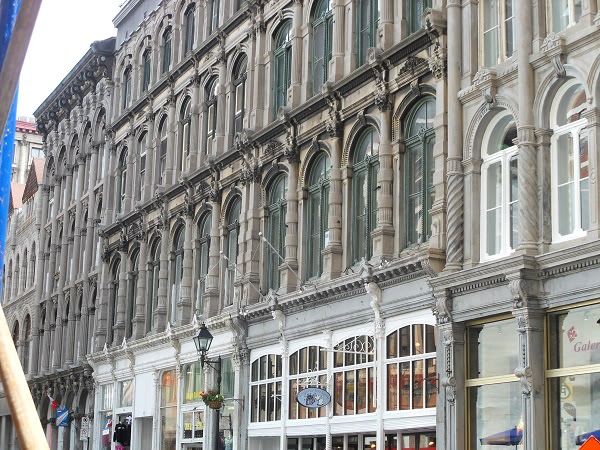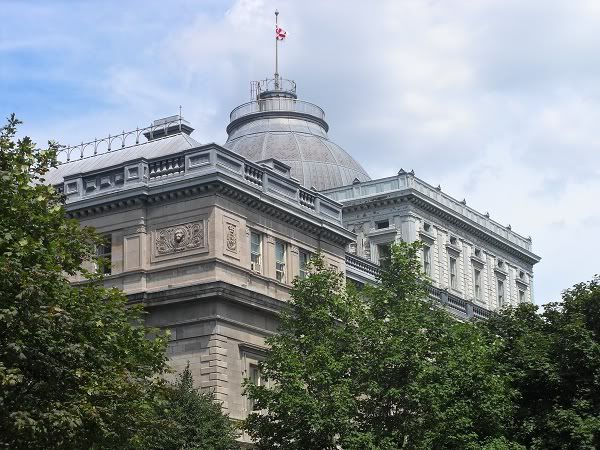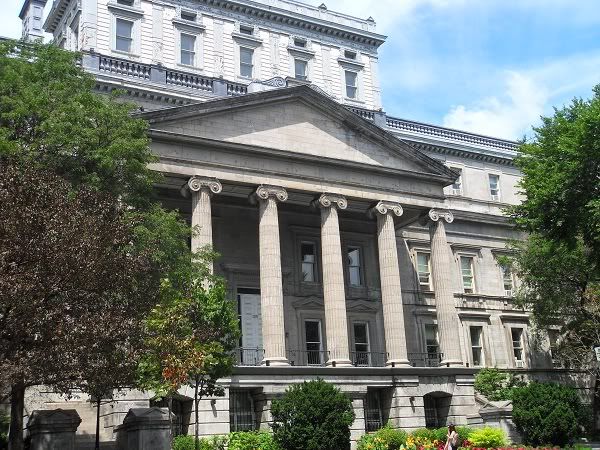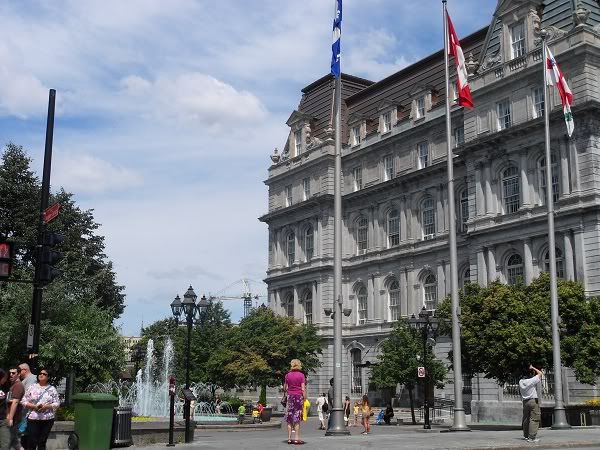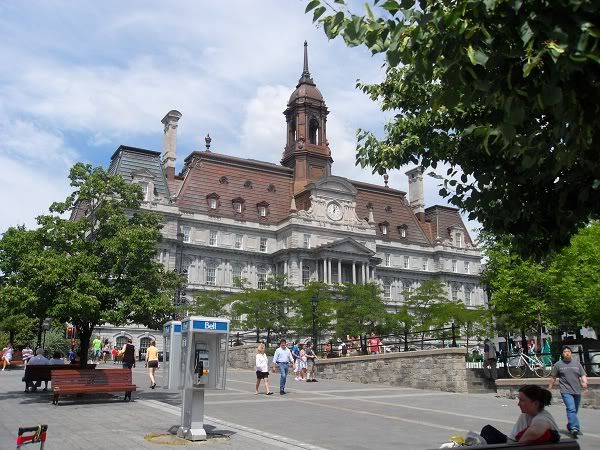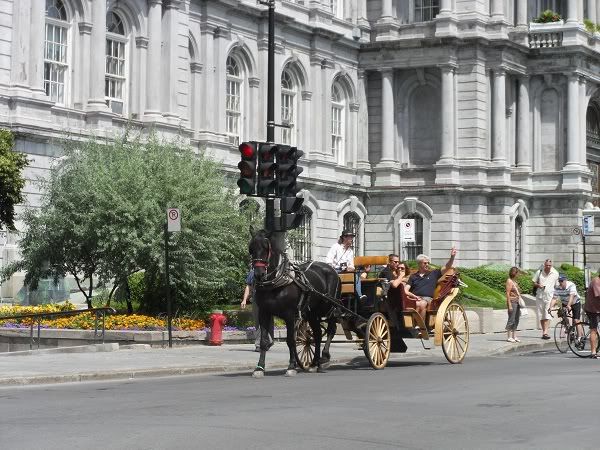 The Place Jaques-Cartier itself was astounding.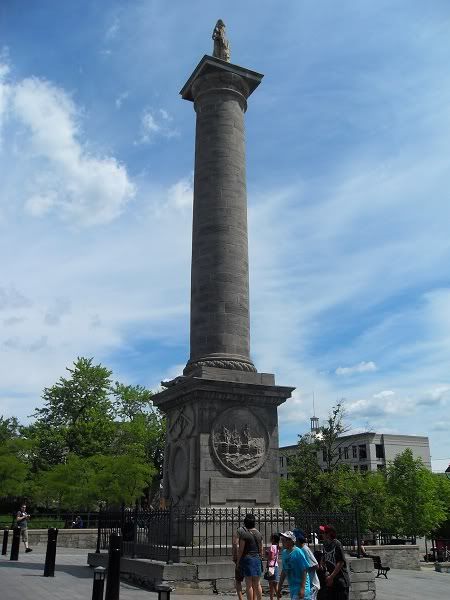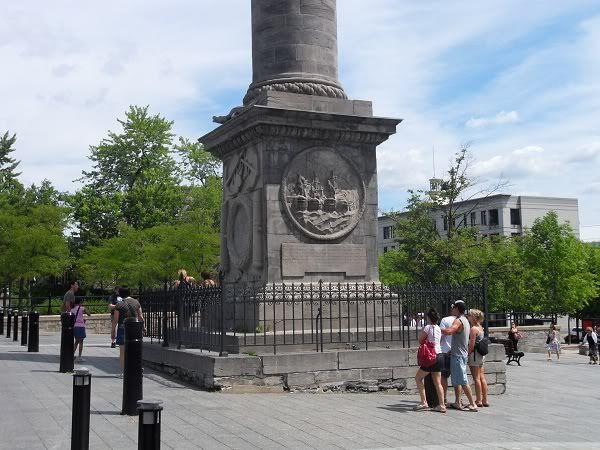 Peaceful on a Sunday morning yet bustling with people, touched by a delicate breeze, horse-drawn carriages in the nearby streets, & outdoor chamber music provided by the Metropolitan Orchestra filled the air as we tried to choose a place to have lunch.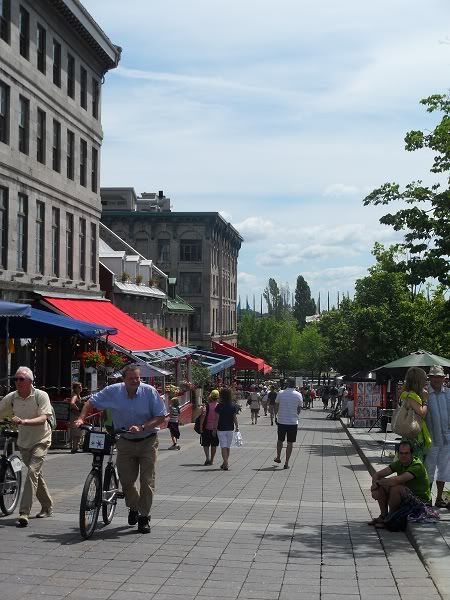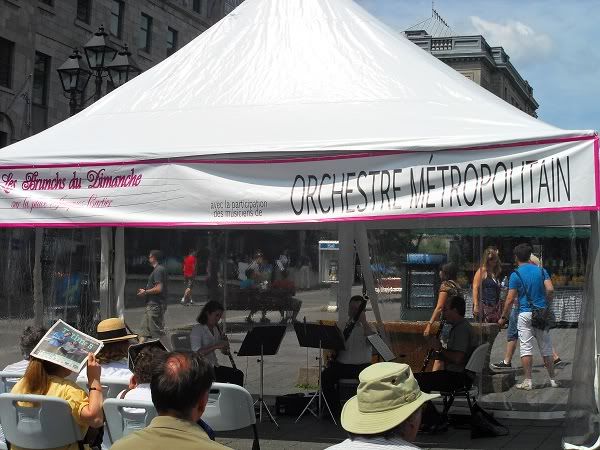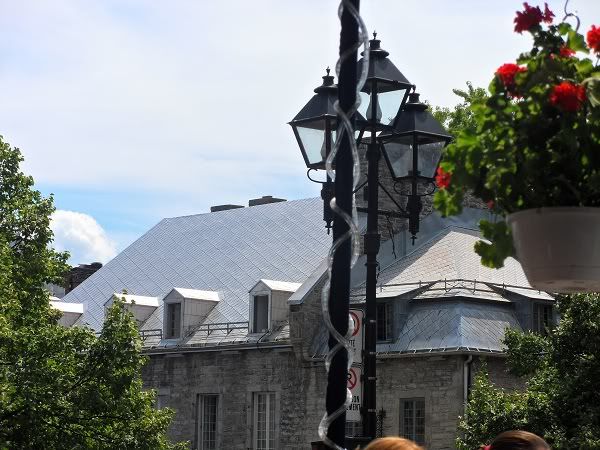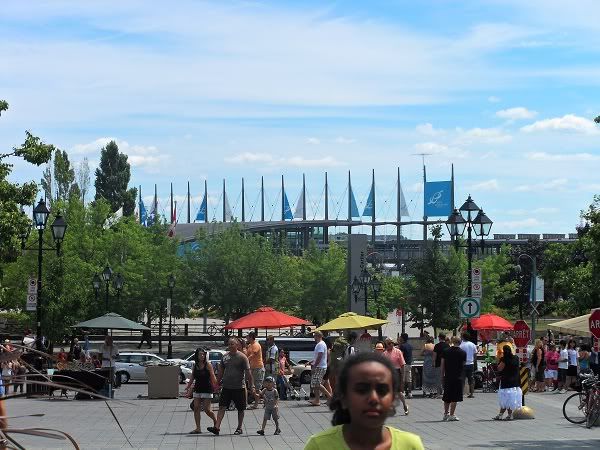 Couldn't resist a little creperie not far from where the orchestra musicians were playing. And while I love the Japanese-style sandwich-like crepes, these were the original French kind. I forget which kind

teacup_sky
had, tho' I tried it, & it was quite yummy, but the goat cheese & tomato that I had was phenomenal!! They're a touch pricey, but it's worth the cost.
One strange little moment: There was a family sitting at the table next to us, & just before we left, the guy asked me if I could turn his son into a toad. (???) I told him I couldn't, but he asked me to try, so I waggled my fingers a bit. He seemed a trifle disappointed that it didn't work right away. I said maybe there'd be a delayed effect.
Anyway...
See the full set of the day's photos here:
http://www.facebook.com/media/set/?set=a.1880571944538.2088096.1548491398&l=d69fc87f2a&type=1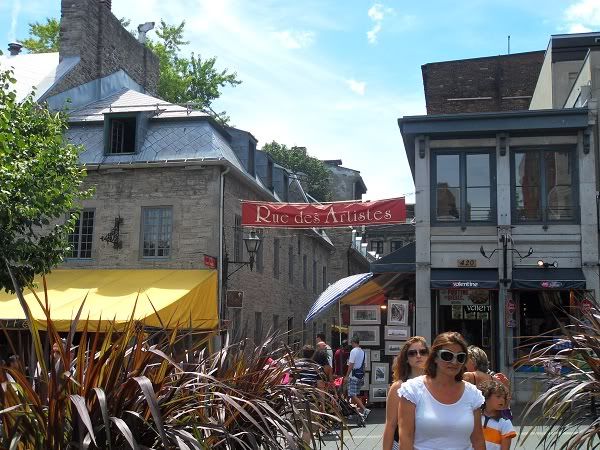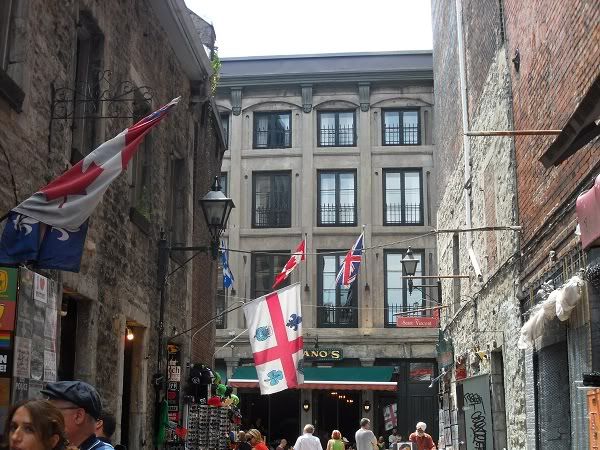 After eating, we looked around the Rue des Artistes, an amazing alley where artists not only vend their wares, sometimes they can be seen creating them. This was particularly true of the painters, but the truly magickal part was in the one artisans' gallery we visited, which looked like a large shop, but opened inside to a courtyard, complete with tree, growing up through the middle of the stall area.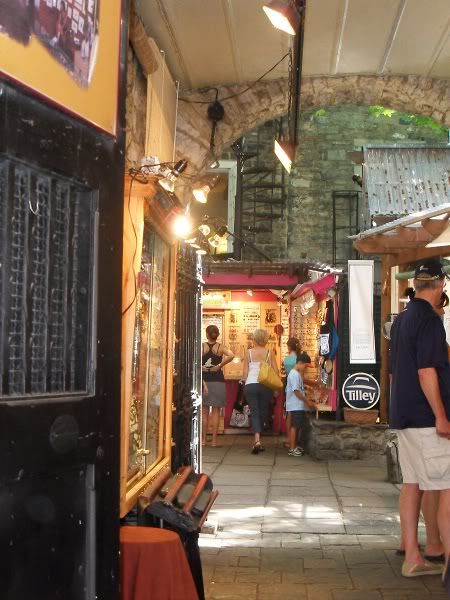 The stuff was beautiful, local, & hand-made. I bought a ring, & wore it the rest of the day.
The cobblestone streets & European structures of Old Montreal never ceased to hold my fascination. Besides the array of interesting shops into which we ducked & at which I bought a few odds & ends, even the simplest things drew my attention, like light fixtures, window trim, & balconies. Heck, their Ben & Jerry's & McDonald's even have charming, old-world exteriors!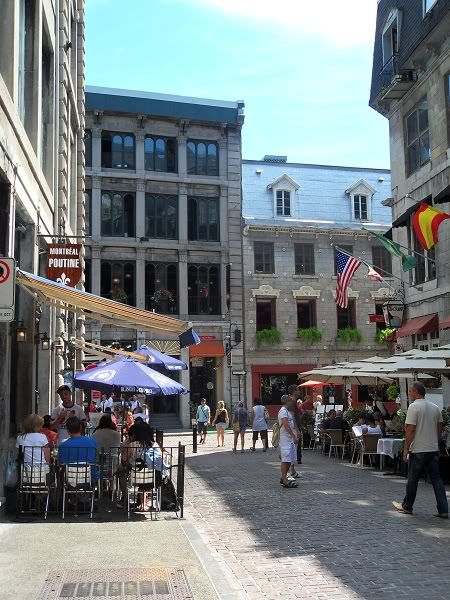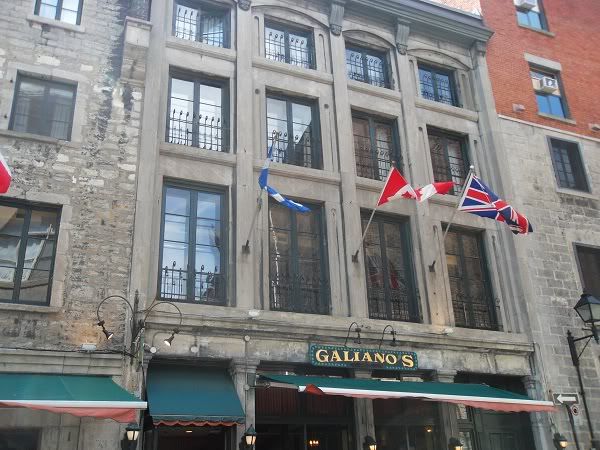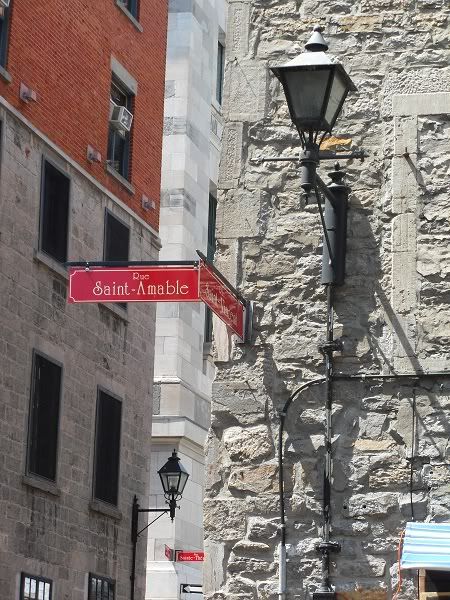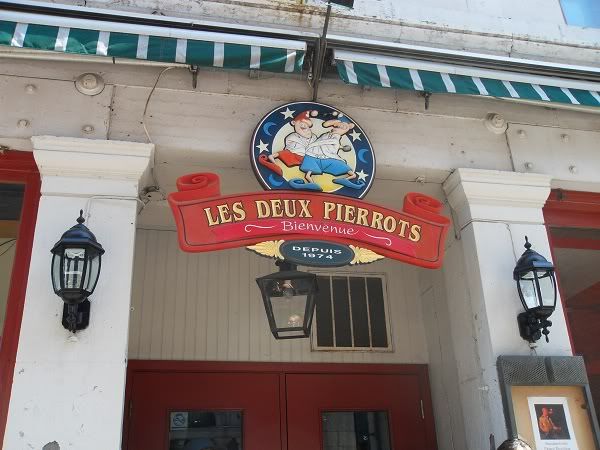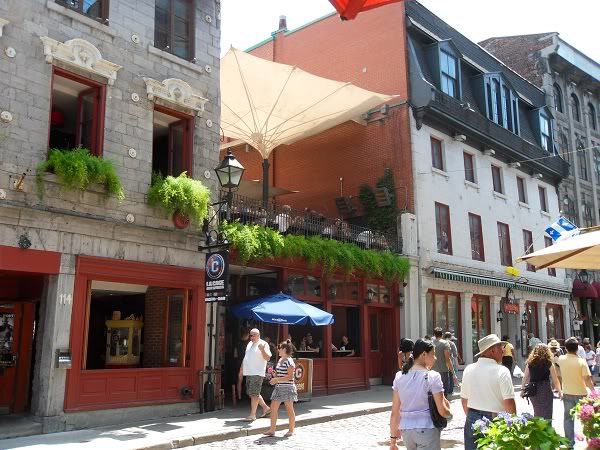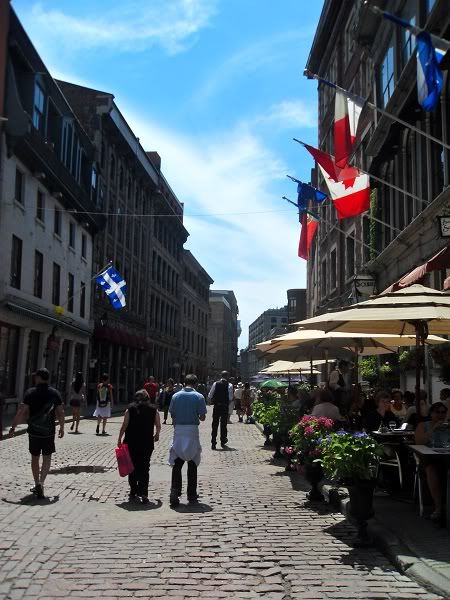 And we, ourselves, drew some attention.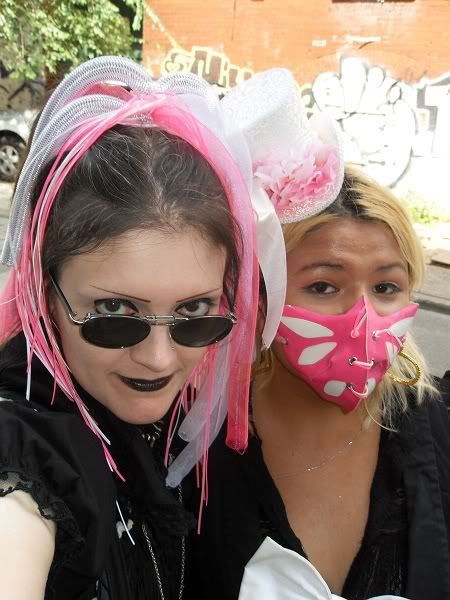 We got 3 very high compliments that day: I think it was near the restaurant Montreal Poutine (poutine is a local dish; I had some later in the week, but I did find the door to this particular restaurant on Tumblr & put it on my page) that someone actually
applauded
us.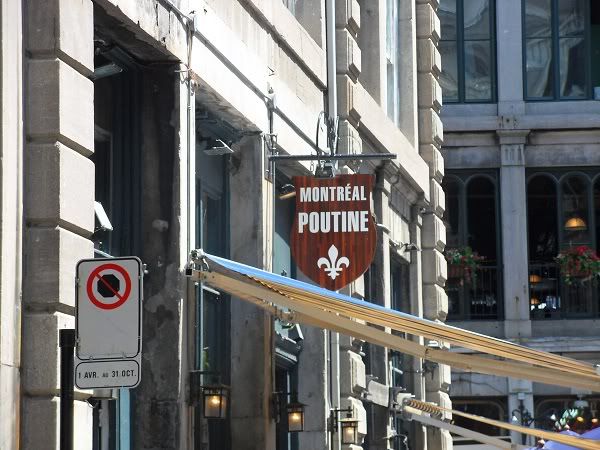 Later, the driver of a horse-drawn carriage carting around tourists near the costume shop described us to his passengers as "mangas" (manga is the term for Japanese comic books).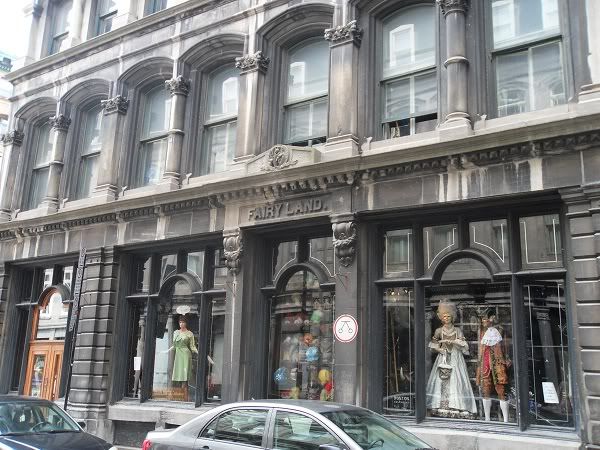 Then, someone in La Table Ronde asked if we worked there!
La Table Ronde (
http://www.la-table-ronde.ca/home.php
) is a Medieval/witchy/Gothic dream. The statues! The furniture! The jewelry! The clothes! The girl that worked there was really nice, & very helpful. She even knew her Loli - recognising that the dress I had on was Baby! I ended up with a black & grey floral-patterned half-corset, & a silver, purple-stoned necklace.
Made our way back to Notre Dame, &

teacup_sky
suggested we go inside. They have guided tours (not sure if it's in French or English), but you can just pay the fee (I think it's, like, $5) & go in. The money goes for upkeep of the church. And it's totally something I would support, because this place is beyond beautiful, beyond amazing or astounding or fantastic or any of the paltry words my native tongue has for something like this.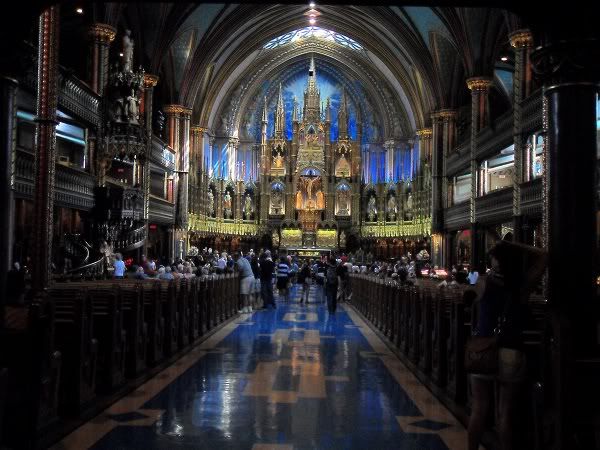 To walk into Notre Dame is to
feel
the overwhelming joy & beauty of a structure fully inspired by someone's faith, even if you, yourself, do not follow that set of beliefs. For all the negativity that surrounds the misinterpretation of religion, this is the finest side of faith. This is, as

teacup_sky
put it, someone who believed their ability to design & build was a God-given gift, & this was not only the ultimate expression of said gift, it was also the ultimate 'thank you', a way to give back & show appreciation for it. One feels, from the centerpiece/altar, the sheer size & greatness - I guess you could even say majesty - of what is described in the sacred texts as The Kingdom of Heaven, yet it is also, along the lines of what was intended by the reference to God as 'the Father', a gentle, guiding hand, inviting & warm.
We sat in the pew for quite some time, discussing the feeling & being awed by the structure itself. Every part of it had so much to offer, stained glass windows & ceiling panels, Gothic spires, arches, & spiral staircases, statues, confessionals, paintings, & flickering candles lit by the devoted.
And yet there are people who attend services there regularly, & are 'used to' the sight of it; others just think of it as ostentatious & 'touristy'. Normally, in 'touristy' places, I'd be snapping furiously, trying to capture every angle, every detail...but there's something about places of faith that demand a bit more respect, in my opinion. And while they said photography was okay, I only took 2 photos. The first came out a little dark, so I turned the flash off, & ended up getting the better one. But one was all I needed. As beautiful as it is, a photo can't capture the atmosphere, the spirit, of the place.
We each lit a candle before leaving.
Outside, more photos of interesting aspects of the exterior.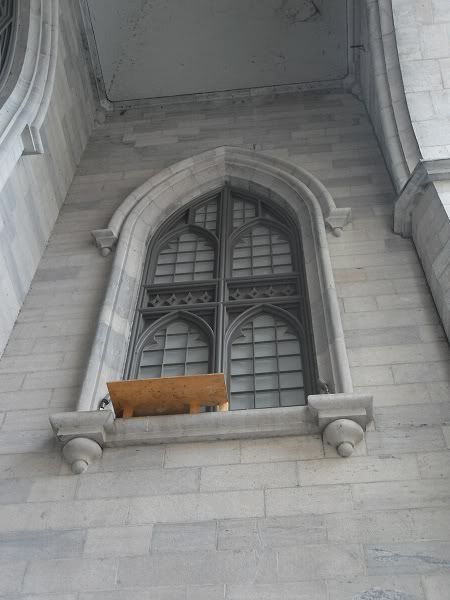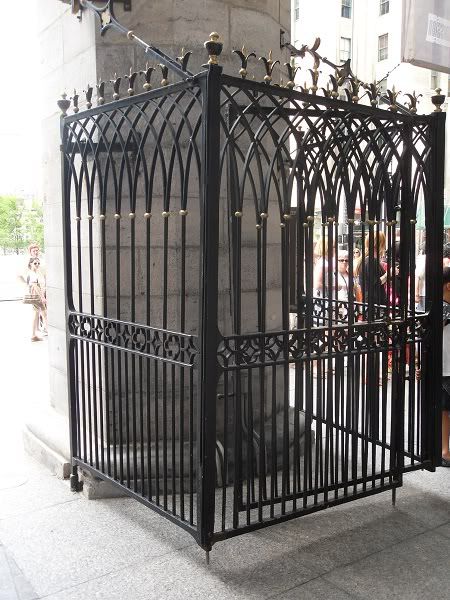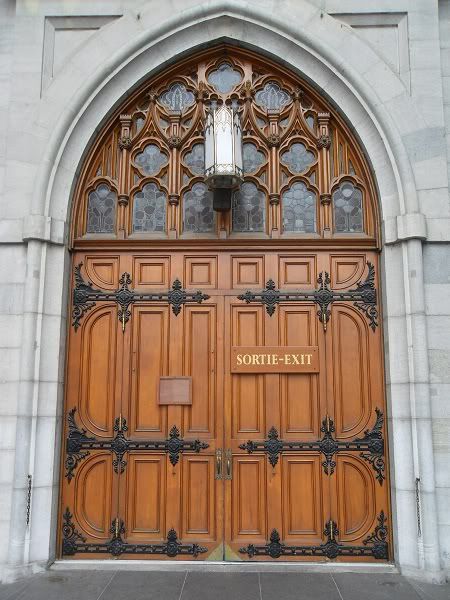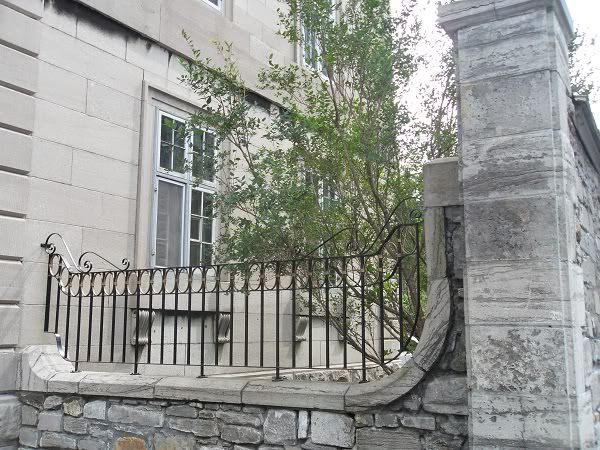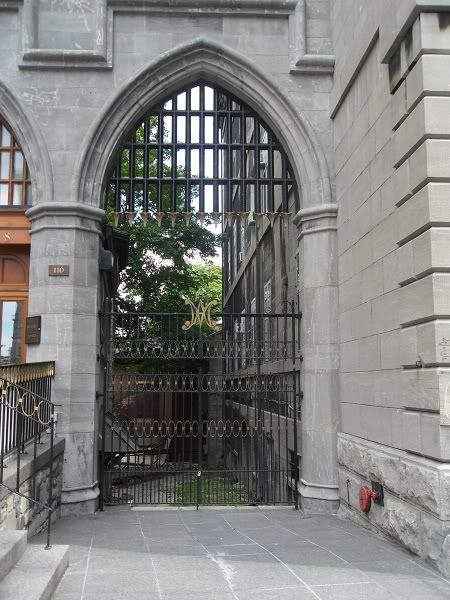 A very nice older gentleman offered to take our picture by the Gothic gate. He took 2 'cuz he wanted us to smile. He didn't focus that second one all the way, but both still came out pretty well, I think.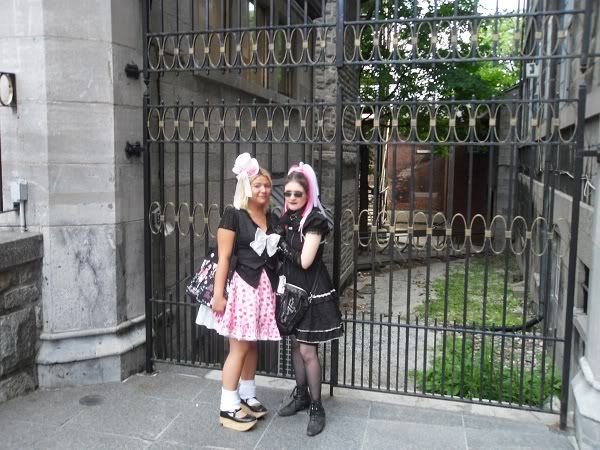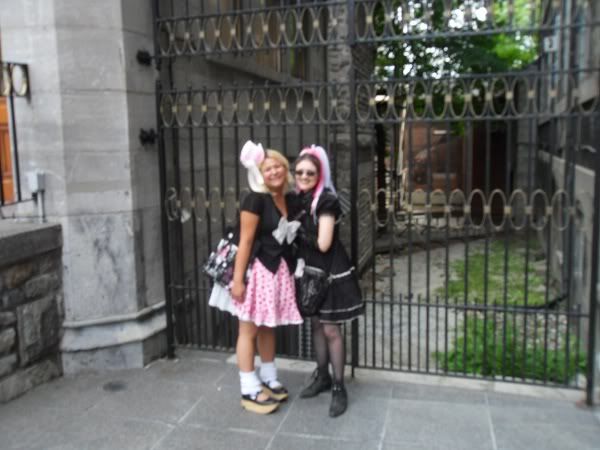 Walked back down through the somewhat more 'modern' part of town, stopping at a bus stop for an impromptu photo shoot.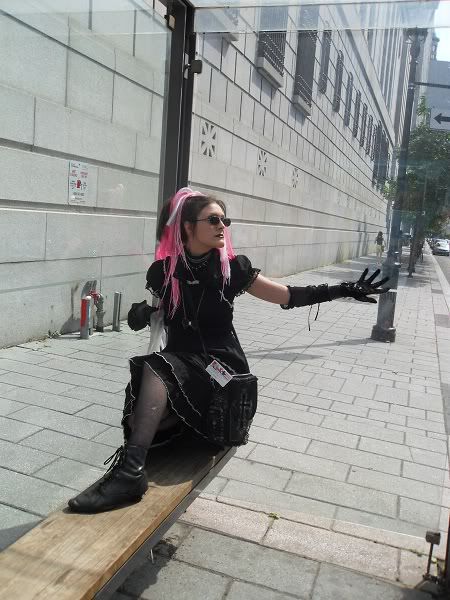 Ended up back in Chinatown, where we ducked into the Asian market (I forget the name of it), to gawk at all the fun & interesting little goodies. I bought an inexpensive black skirt with lace frills on it, very Goth.
Then we went to dinner with

teacup_sky
's mom, sister, & sister's boyfriend at Ruby Rouge (
http://www.restaurantrubyrouge.com/home.html
), an Asian restaurant that had been recommended to me by a friend who'd gone to Montreal a couple of years ago. I should've taken pictures of the food, 'cuz we had tonz, & it was all AMAZING!! I still dream of that last piece of stuffed tofu we just couldn't finish, but I was seriously stuffed to capacity at that point. It was a wonderful cap to a memorable day.
We never did make it to the rave, but by then, it didn't really matter.
Back to the house for a bit of a nap before

teacup_sky
& I stayed up all kinds of late, chatting & listening to music & whatnot.
But my adventure wasn't over yet. A couple of hours of sleep later, & it was on to Day 4!
http://japanesedream.livejournal.com/409228.html