japanesedream_72
Please don't forget Day 4!
http://japanesedream.livejournal.com/409228.html
My final full day in Montreal, but we were doing our best to put our knowledge of that fact on the back burner & just have fun.
See the full set of the morning's photos here:
http://www.facebook.com/media/set/?set=a.1884265036863.2088266.1548491398&l=c5379a801a&type=1
Started with the Oratory - L'Oratoire de St. Joseph du Mont-Royal, a beautiful basilica that offers a breathtaking view of the city. Its exterior design is incredible, & in sharp contrast to its modern, almost art-deco interior.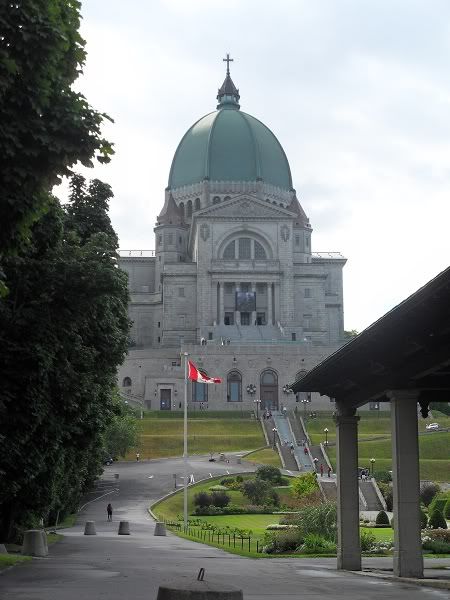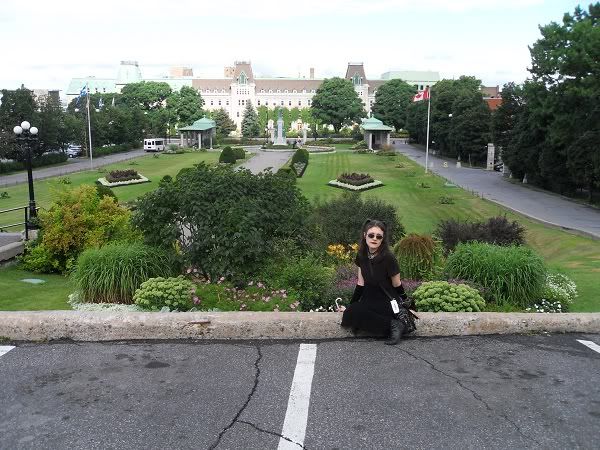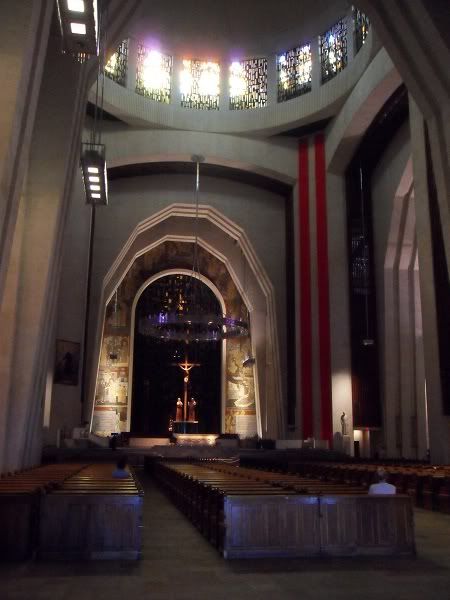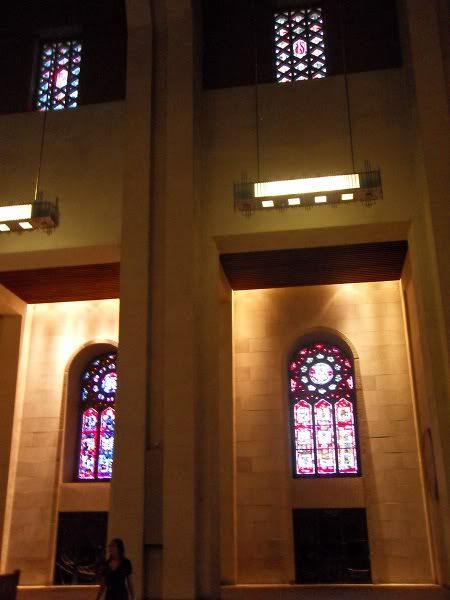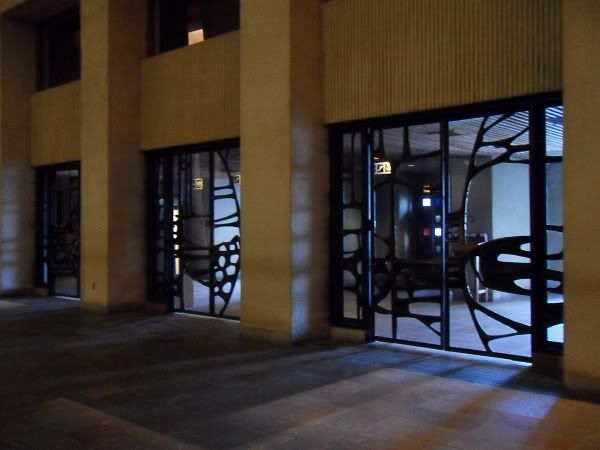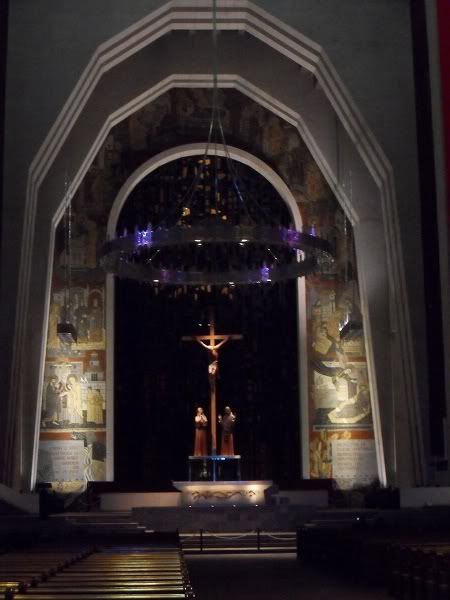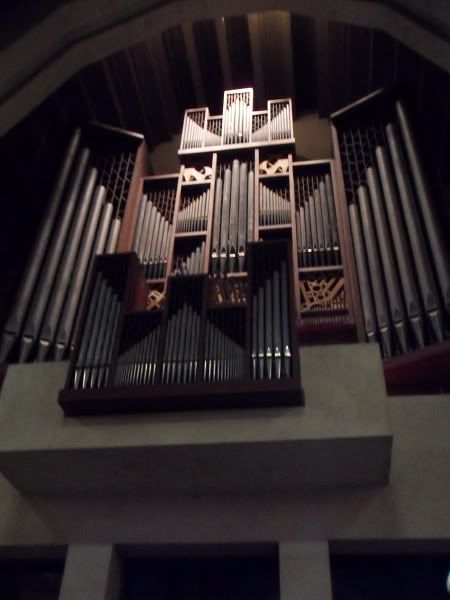 By comparison to Notre Dame, the inside of this place of worship is a bit harsher, with straight lines & that imposing chandelier. But the pipe-organ music & seemingly antique altar statue give it a warmth that suggests a parent who's a bit of a disciplinarian, but whose child loves them anyway. it was really interesting.
And we waved to the window cleaner. :D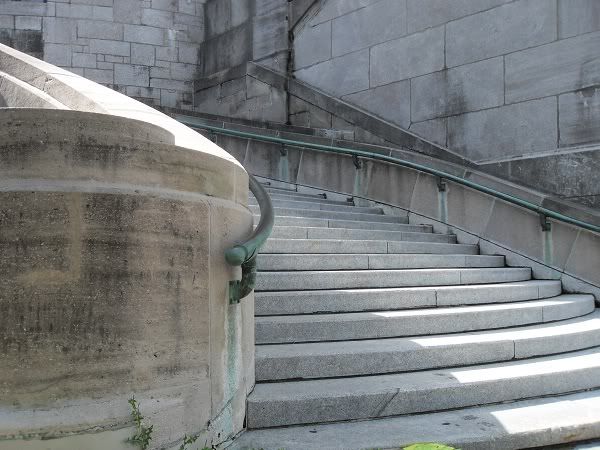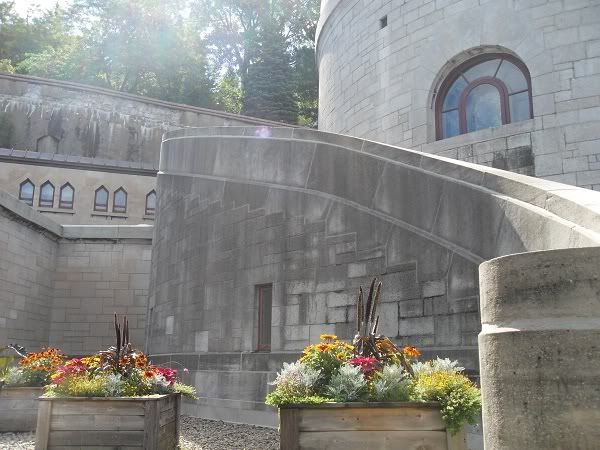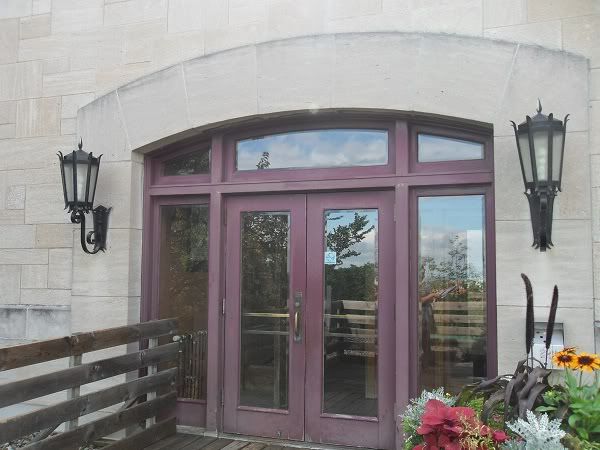 Took a LOT of photos at the Oratory. There are so many different things to see. Straight on, it's really a sight in & of itself, but there's all this other stuff going on. The observatory aspect of it, looking out over the city. The angles & little hidden things, like behind where the little flower beds are, where the steps & ramp slope down. The side, where the downward-curving steps are. A veritable playground for the artistic eye, & we took full advantage of it, indulging in another impromptu photo shoot before we left.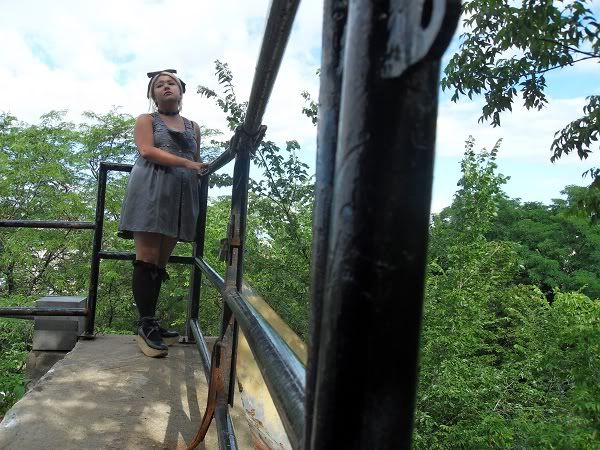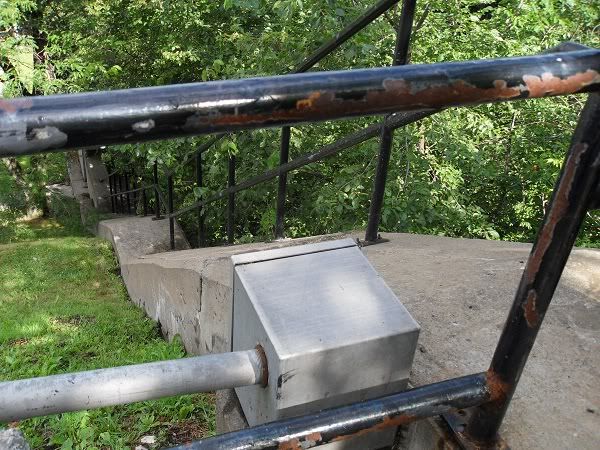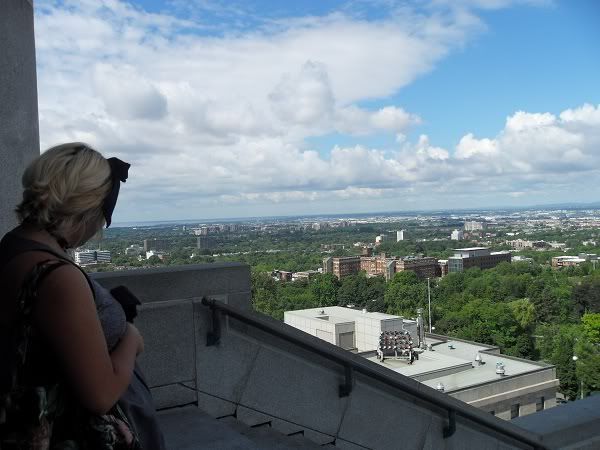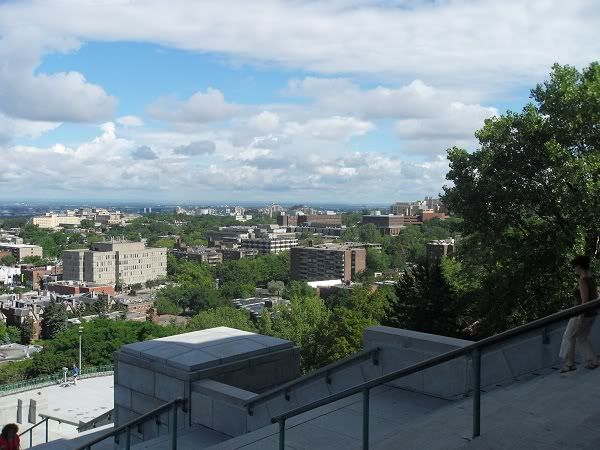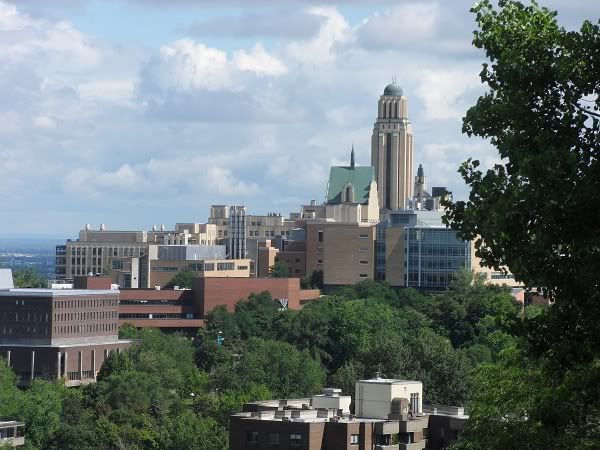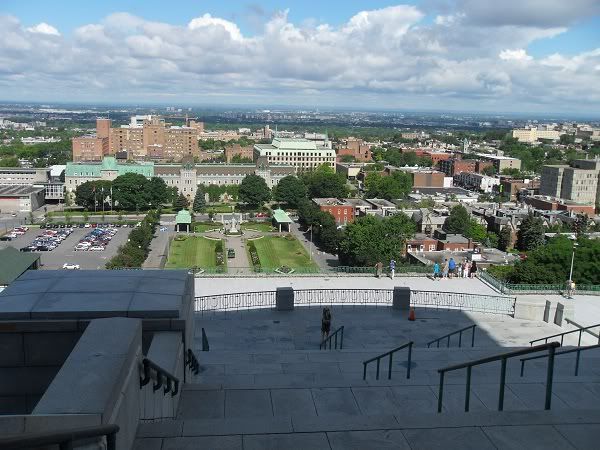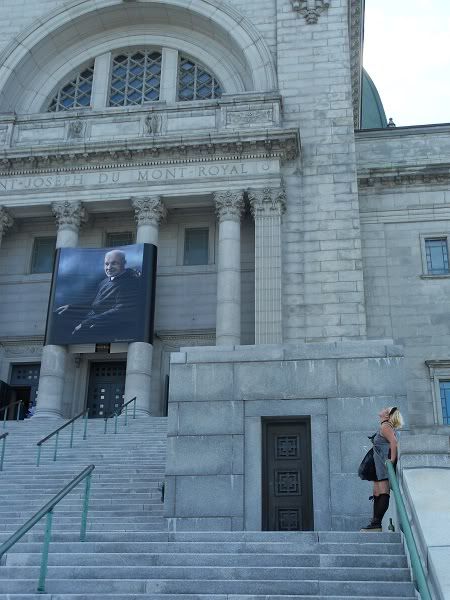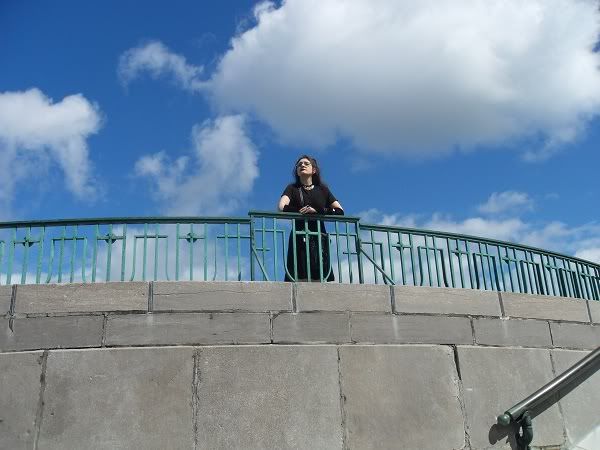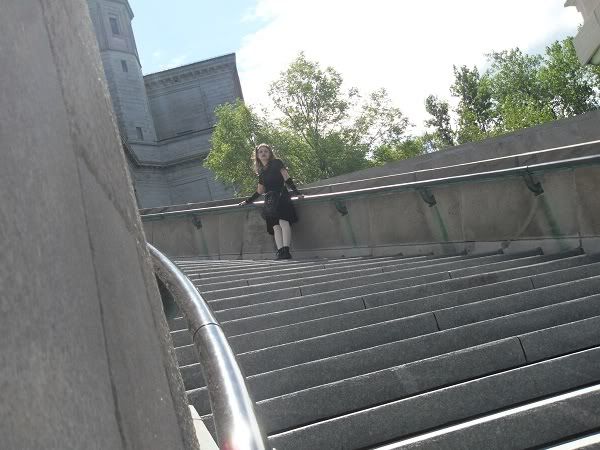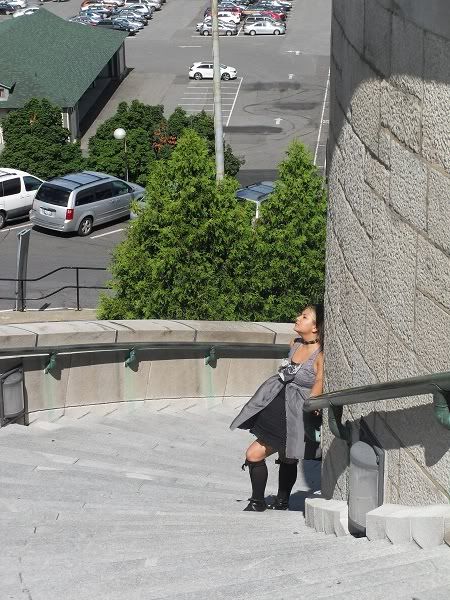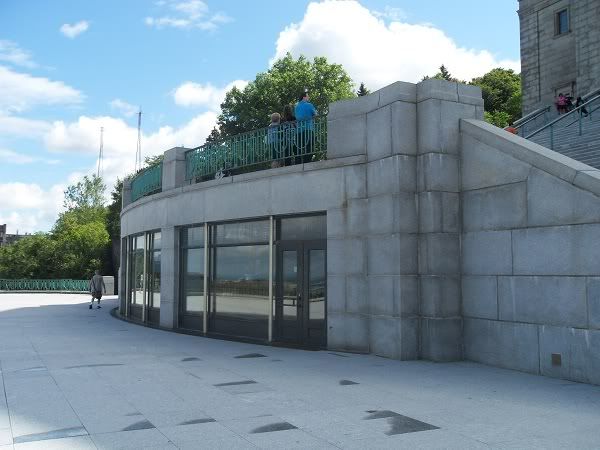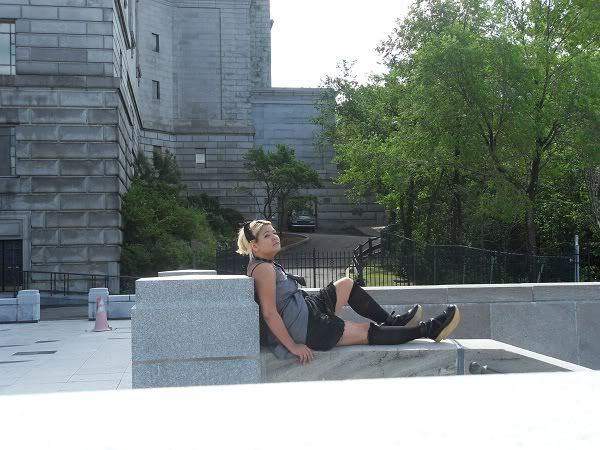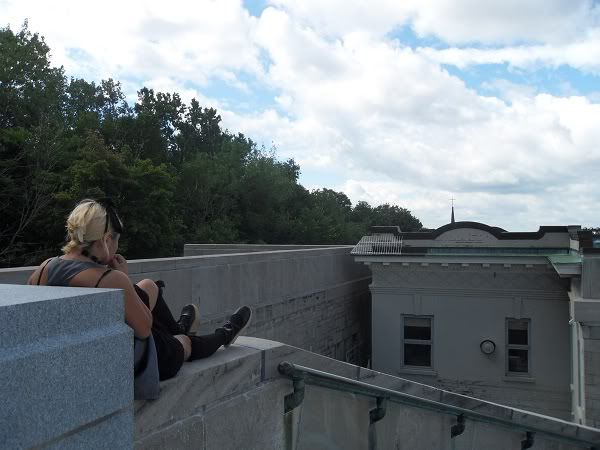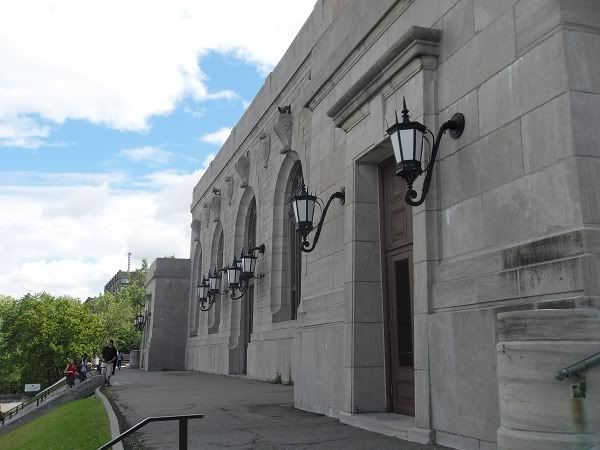 Incidentally, it being a place of faith, it is interesting to note that there is a separate staircase at the outer entrance to the Oratory specifically for the devoted - they ascend on their knees.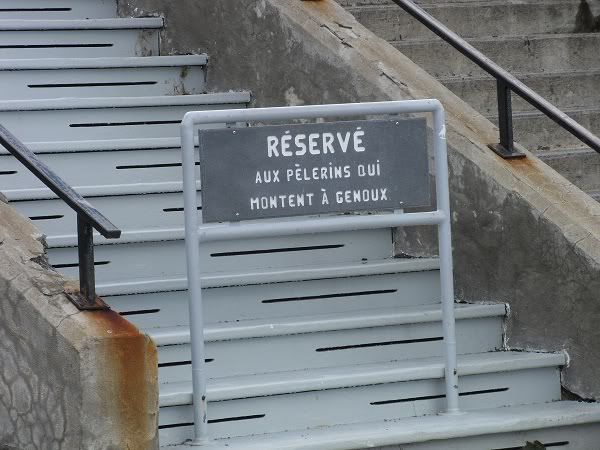 What was that historical anecdote

teacup_sky
told me about the guy who put up the 50-foot cross on the mountain? I can't remember now, but that's the cross right there. I think this is it:
http://en.wikipedia.org/wiki/Mount_Royal_Cross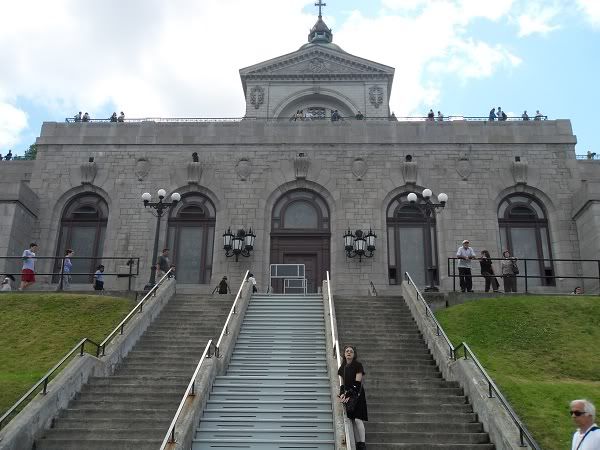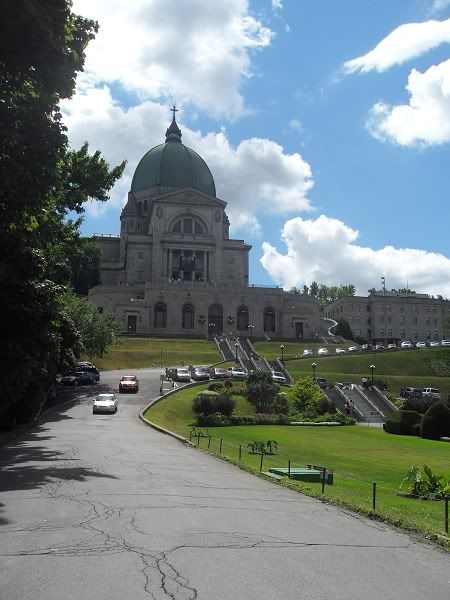 Down through an area that resembled a German village...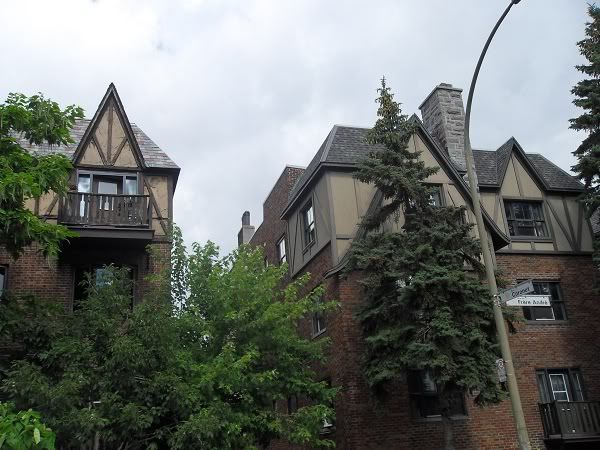 ...& we soon entered the grounds of Cimitiere Notre Dame des Neiges (Our Lady of the Snows Cemetery).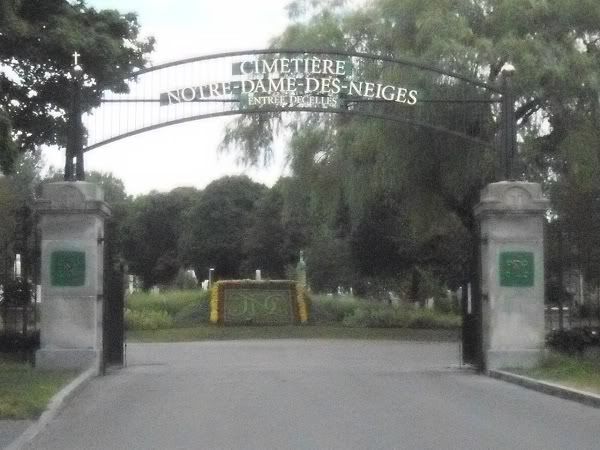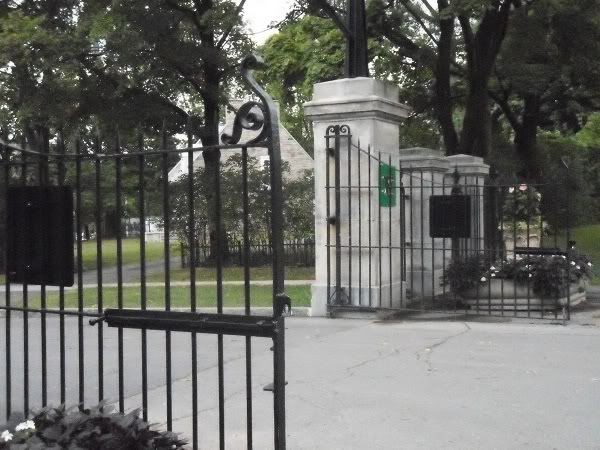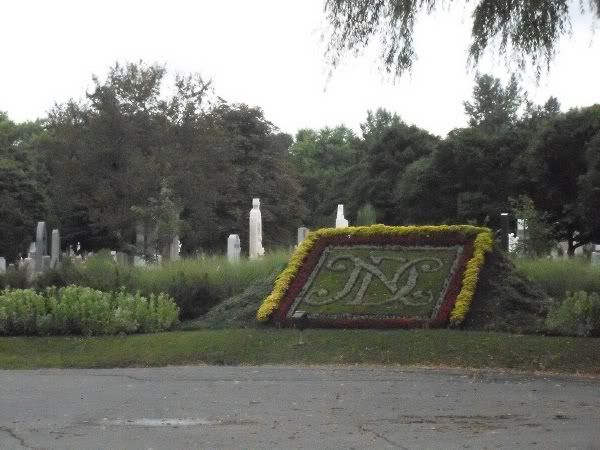 There's quite a bit of history & importance to this; you can read about it here:
http://www.cimetierenddn.org/en/cemetery/history.aspx
This is where the most fictional part of our day occurs.
See the full set of the afternoon's photos here:
http://www.facebook.com/media/set/?set=a.1885967839432.2088360.1548491398&l=983a65d365&type=1
With the Oratory visible in the distance, we wandered through the aisles looking at the beautiful monuments.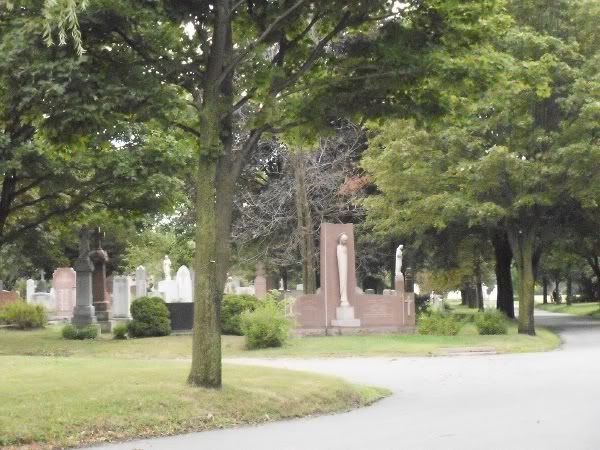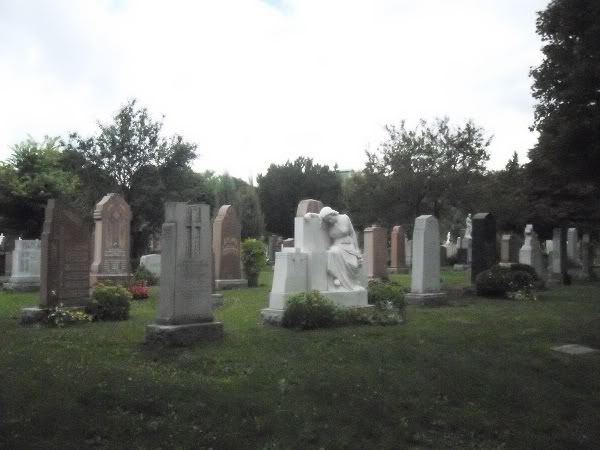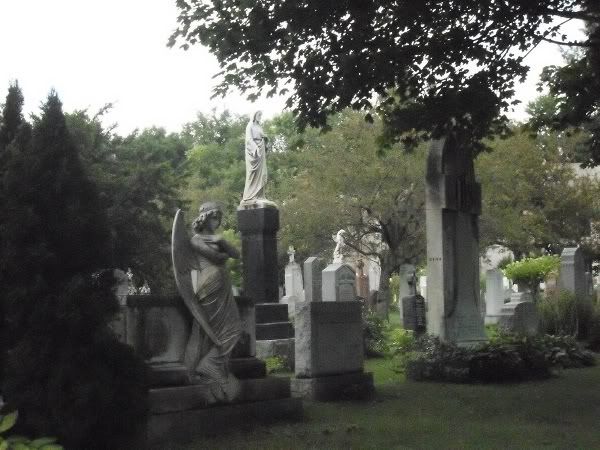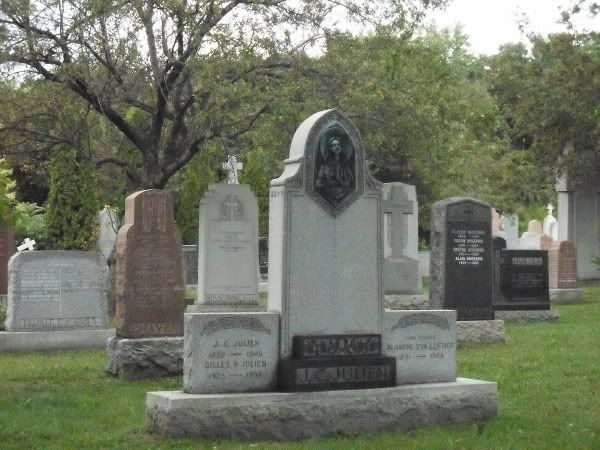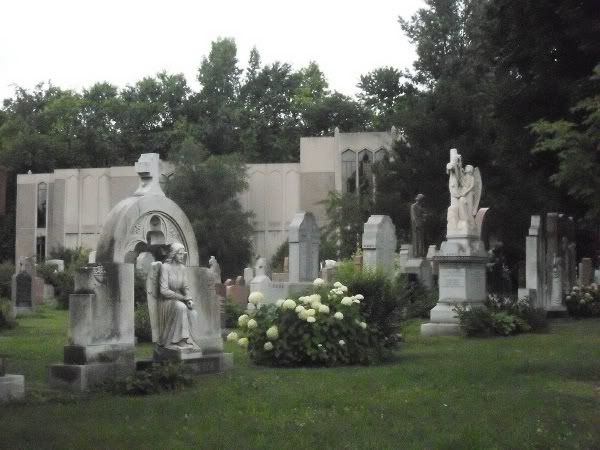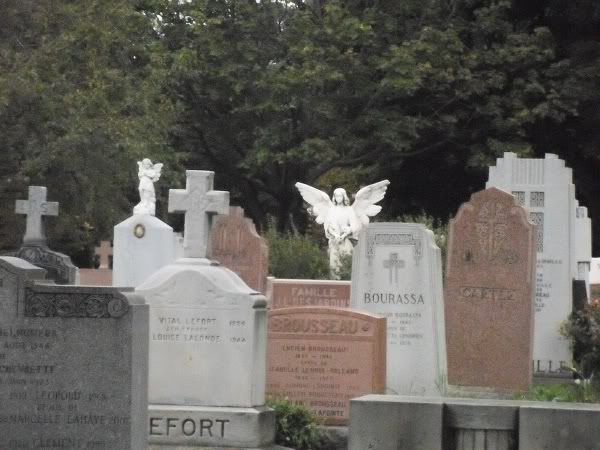 I've always had a fondness for cemeteries. They're serene places, & the markers range from exceedingly simple to extraordinarily complex. There's history in cemeteries, & artistry. A sense of something profound, yet in a quiet sort of way.
Which, I suppose, makes what happened...well, you'll see what I mean.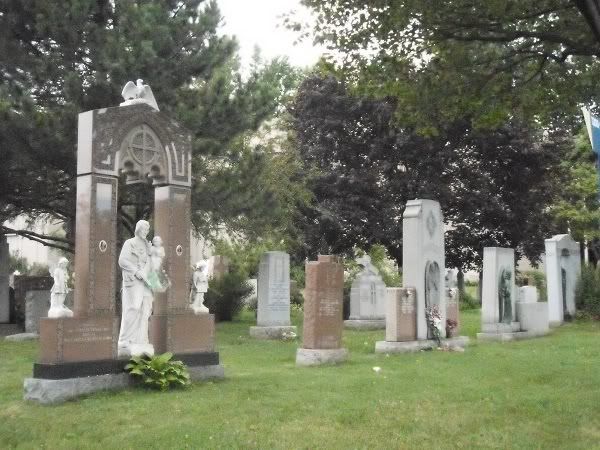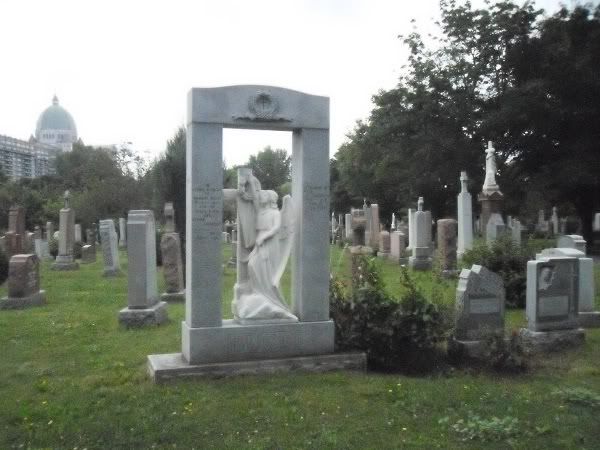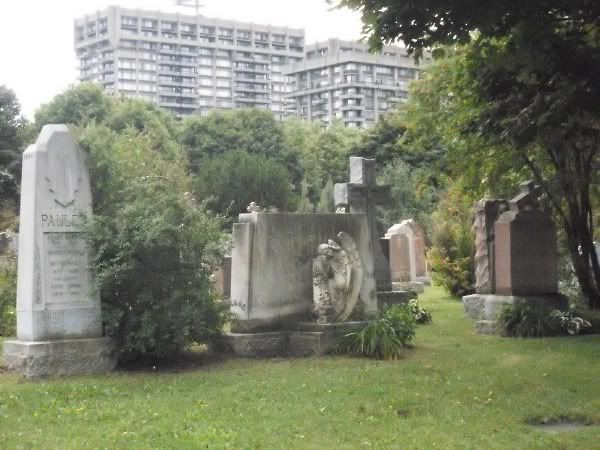 I'd again brought my umbrella with me, both to ward off any potential rain & to shield from too much sun. It fits nicely in my suitcase 'cuz it's a child's umbrella, & also doesn't cause too much trouble if there are a lot of people around, the way a larger umbrella might. Long story short, it started to drizzle, so I whipped out the umbrella & we were both walking under it.

styxonline
has a friend that she once described as being "made of fiction". The man we met in that graveyard could well fall under such a description.
He appeared seemingly out of nowhere, a tall, lean vision in white. White shirt, white pants, even peppery white hair. He spoke with a British accent, noting that the umbrella we shared was rather small. We made some reply or another, & he came up to us & started talking. I can't recall the entirety of the conversation, but I remember him asking something like what were we doing there, or some such question, &

teacup_sky
said we were "just visiting". He asked where from, & I said America. He asked whereabouts, & I said New Jersey. He said he'd been there; his parents had taken him when he was a kid, & he remembered going to the beach.
Eccentric & whimsical, & smelling of a bit too much whiskey when he got close, he began to talk to us at length. I can't give you an actual progression of words or topics, because it all flowed out of him at once. Encompassing history, poetry, music, & literature, I know it started with him asking what kind of work I do. I told him office/administrative, but that was just for money. He asked if we were in the arts (I guess because we look artsy :D), & we said yes - music, writing, language,

teacup_sky
said she'd done a bit of acting & was currently a student. He mentioned he was an actor; he'd done his own movie & had bit parts in some others. He also mentioned his family's ancestral home being used in a film, though they didn't own the place anymore.
He said his name was Stuart, & he was part of the Fulke-Greville family (
http://en.wikipedia.org/wiki/Fulke_Greville,_1st_Baron_Brooke
), his ancestors having once occupied Warwick Castle (
http://en.wikipedia.org/wiki/Earl_of_Warwick
), & that all we need do to come upon his family history was to look up Sir Philip Sidney (
http://en.wikipedia.org/wiki/Sir_Philip_Sidney
).
He talked more about his acting, as well, how he'd made money back in England, at Covent Garden, I believe, by procuring a busking license for the summer & reciting poetry to people. He'd make 100 or so small copies of a poem & fashion them into little scrolls, which he'd distribute after his recitations. He might do people who were on their own, couples, or even groups.
He did one for us.
Was it Shakespeare? Or Milton? I can't remember. But it was really amusing, 'cuz it was meant for a couple - a man & a woman. He bid us look into each others eyes as he recited. It was actually quite a nice poem about love & devotion.
He recited other things to us, & sometimes he'd forget a bit, & curse a little, & go on until he remembered, & give us the history of each piece. I know Shakespeare was involved somewhere, & Milton, & Handel's opera that had butchered a Milton poem - that was part of the history.
He kept saying he had to go, but then he'd talk more. And he mentioned having a girlfriend, but that was pretty much the only less-than-happy part of his life at the moment. He asked us our signs, & when he found out we were both Pisces, he was shocked! Turns out that's his girlfriend's sign, too.
With one more poem, he asked if he could kiss our hands - we consented, & he did so with flourish & a bit of good-natured cheekiness - then bid us good-bye, wished us luck in our endeavours, & walked off down the path.

teacup_sky
& I had to sit down, literally, we were that blown away.
I wish I'd have asked him if I could take his photo. All I took was a long shot as he walked away.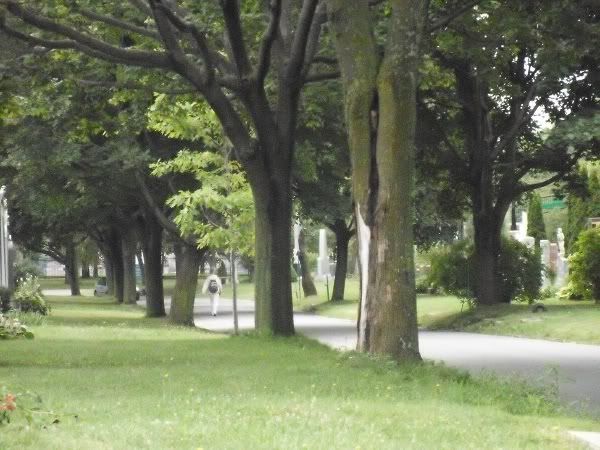 And a shot of

teacup_sky
's face to capture the effect he'd had on us.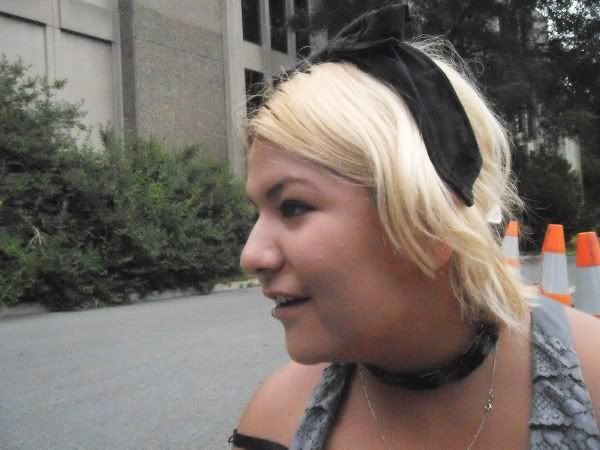 We gathered ourselves & spent a little more time admiring the graves...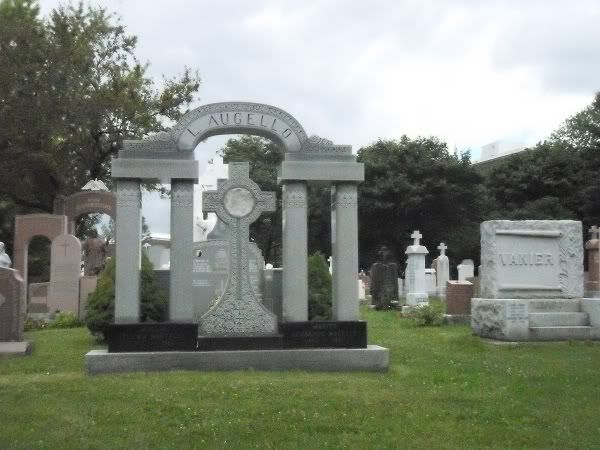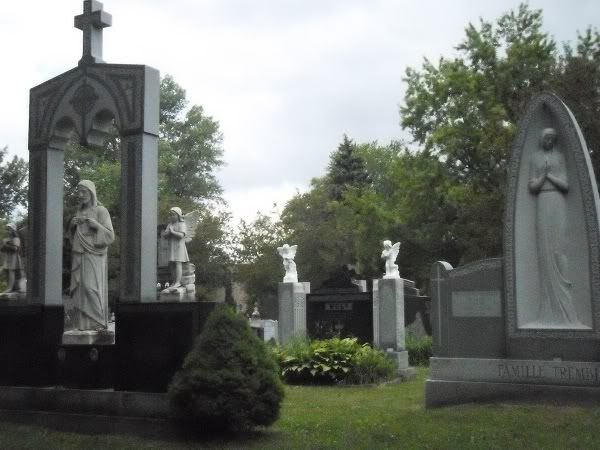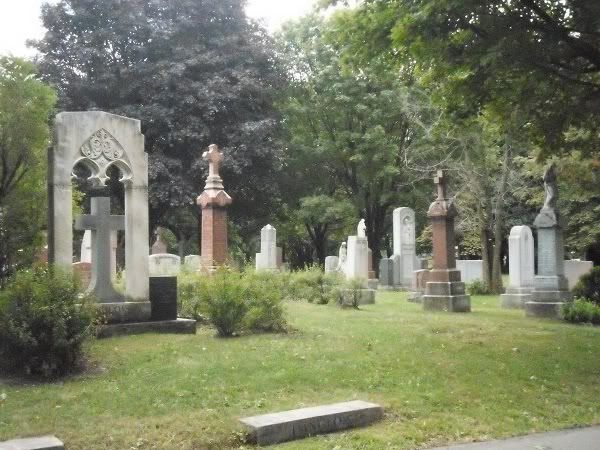 ...then made our way back to the Metro station, encountering a pretty trellis & small garden along the way.
Our eyes searched the streets for him as we walked, wondering what manner of fictious creature we had encountered. We hoped to see him sitting on a bench or boarding a bus, as if to somehow cement him in our reality, for truly, he seemed born of imagination...& yet, part of us never wanted to see him again, lest any future encounters tarnish the memory of that moment.
*POST-SCRIPT*

teacup_sky
phoned me Sat. night (8/6) to let me know she saw him again! She'd been attending the Montreal Fashion & Design Festival, & there he was, in front of a display of 17th century costumes (how appropriate). He was talking to people, reciting poetry (Edgar Allan Poe, was it not?), smelling of too much sherry. She did speak to him briefly, & he remembered her. She said he asked, "Where's your friend?" She replied, "She went back to New Jersey." XD
And now, back to our story.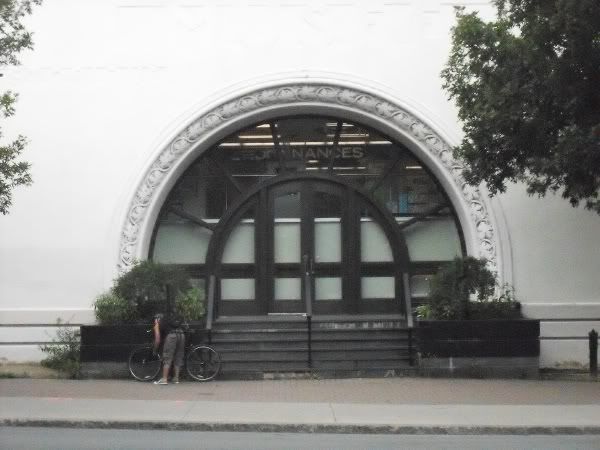 I was taking photos of an interesting building when a sight-seeing bus showed up. I don't know that we were particularly dressy (not like that day in Old Montreal), but people were looking at us. We waved at them. Some of them waved back. Once again, we were officially a tourist attraction.
Back to the area of Mont-Royal/St. Denis, where we decided on some food (having only had a little choco-pie at the bus stop in the morning). As Montreal is famous for its bagels, it seemed fitting that my final restaurant meal in the city should be that. Montreal has a number of "open" restaurants (indoor places with open fronts), & we chose the wonderfully atmospheric St. Viateur (
http://bagel.intercollab.com/content/?id=63
). The decor was artsy, with something of a timeless feel to it, & the flat-screen on the wall played old episodes of The Pink Panther, while music from such artists as Bob Marley was piped in overhead.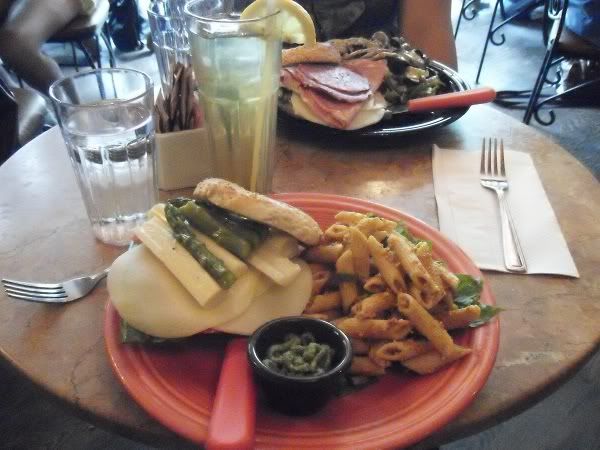 I was able to order my own meal in French, a veggie-sandwich bagel with pasta salad & green tea. Amazingly tasty!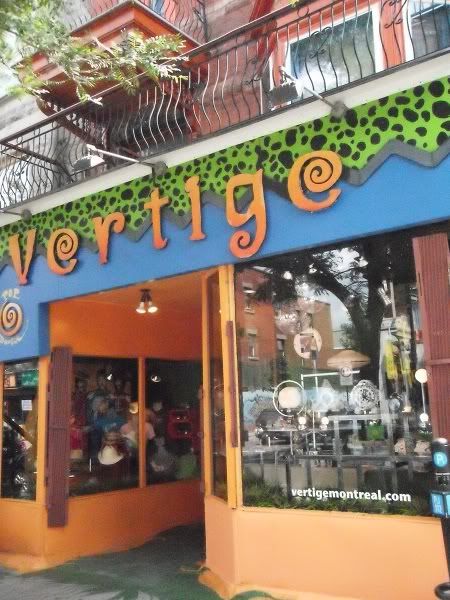 We strolled through the streets, talking in a mix of languages (

teacup_sky
's also learning Japanese, so we'd throw a bit of that in there from time to time), ducking into vintage shops, & generally reveling in the day.
Before I knew it, we were back in the Gothic's dream closet known as Diabolik, where I bought the jacket to end all jackets. I can't really even describe how phenomenal this article of clothing is. It's black, with a very faint print if you look at it in the light. The collar is lined with something, I'm not sure if it's some kind of soft tulle or what, but it's trimmed with this intricately-patterned embroidery. That embroidery is echoed on the sleeve cuffs (I believe), the tails (yes, it has tails), & the front piece, which simulates a corset. The top of the front is open, so only the corset part holds it closed. It's got snaps, with faux buttons in velvet. The cuffed sleeves & the corset part have a red rose print. It was pricey as all get-out, but it's one of those things you'd really regret not buying.
As

teacup_sky
said, the money spent is an investment; the house isn't the only thing that needs maintenance.
Among our final stops was the now-open Cruella. Another WOW! of a store, with great furniture (couch! chair! lamps! organ! coffin-shaped mirrors! coffins!) & awesome (but pricey) clothes. Fawned over all kinds of wonderful things, while old Goth tunes from the likes of Joy Division & Fields of the Nephilim filled the place. Wish I could've gotten a slew of stuff in there, but after that jacket, I was about tapped.

teacup_sky
, however, had a bit of luck, & found a cute & inexpensive skirt.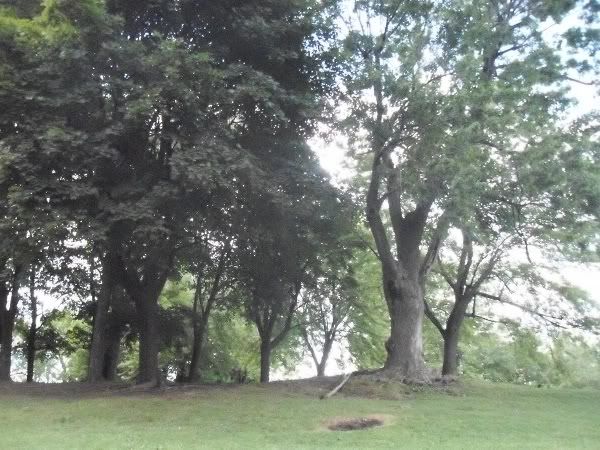 From there, we ended our day out at Mount Royal Park. Bit of a steep hike, but worth it. It was supposedly landscaped by the same person who designed NY's Central Park, tho' this one doesn't seem as ornate.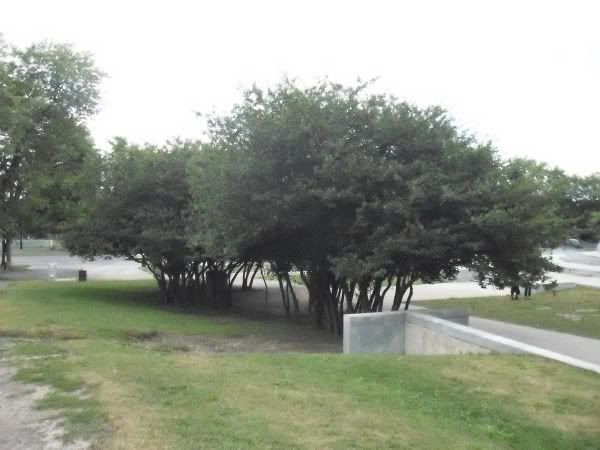 It was fun, tho', just to sit & talk & finish the Dix Mille Villages chocolate, which we'd started during the Moi dix Mois-a-thon, & watch the gatherings of people. There was a small contingent not unlike a drum circle. And another guy, past the little clearing that would've been perfect for a Witch's circle, trying to tightrope walk.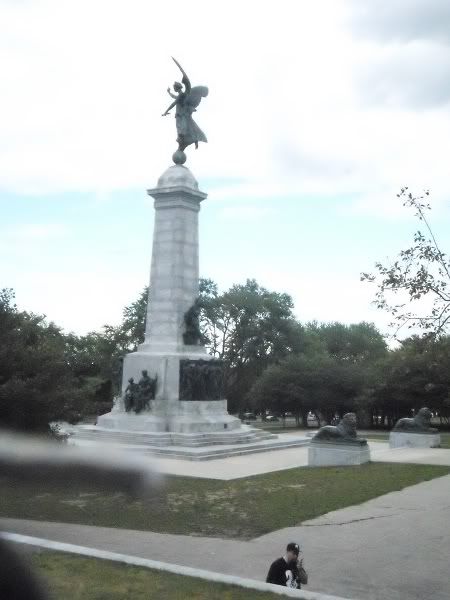 A few shots of the nifty statue & surrounding area, & we bid adieu to the park.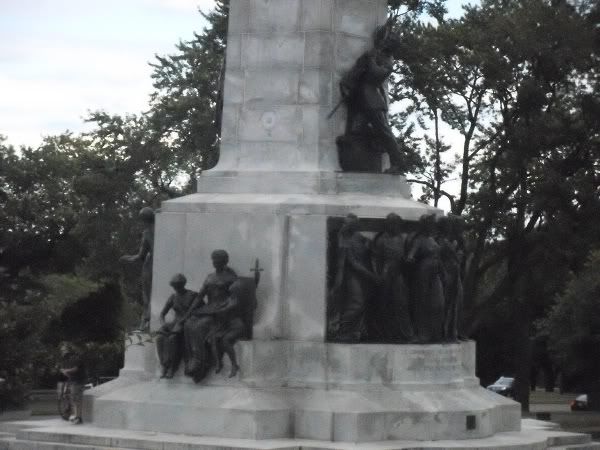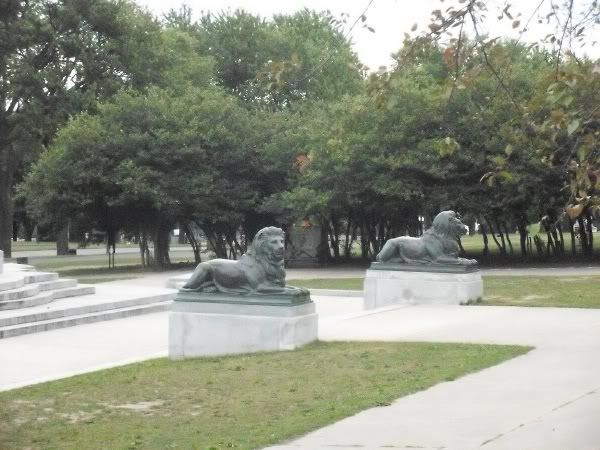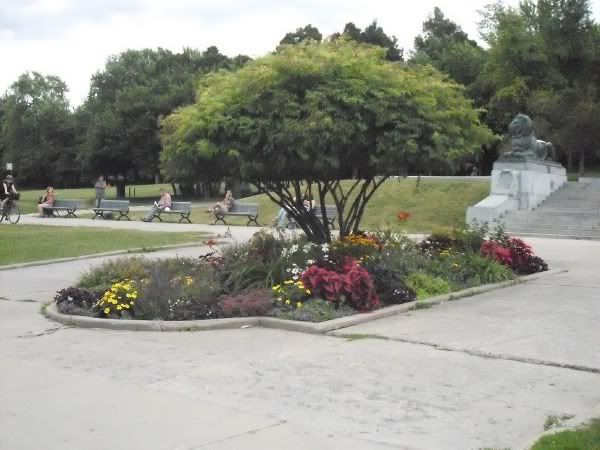 Lots of chatting on the bus back, & at the house, we pored over the lyrics to the new Dir en grey album (

teacup_sky
's mom had received her copy, which had the translated lyrics - I got mine after I got back but still haven't been able to listen to it), trying - as Diru fans often do - to figure out just what the heck Kyo's talking about. XD Her mom was kind enough to also let me look at some of the booklets & magazines she'd recently acquired, such as Kyo's feature in Ongaku to Hito, & his appearance in Tattoo Burst.
Later,

teacup_sky
made breakfast for dinner. What's being in Canada without having maple syrup? She made pancakes with cocoa (with the syrup, of course), bacon, & strawberries. A fitting culinary finale, indeed.
She'd been saying for a while that she wanted to take my measurements (so she can teach me about buying Japanese clothing, since I'm completely clueless), as well as my nail measurements (she's a nail artist), so we did that, & then set out, fueled by coffee for her, soda for me, & YouTube for the both of us, on an all-night bender of chatting, music, & artistic inspiration, plus a short video clip for

styxonline
, interspersed with bouts of sadness because I really would be leaving in the morning.
One entry to go:
http://japanesedream.livejournal.com/409767.html